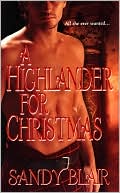 Title:

A Highlander for Christmas


Author:

Sandy Blair


Publishing Date:

October 2007


Genre:

Time-Travel


Rating:

B+


Sensuality:

Warm

Over the past two Christmases, my husband gets a big kick out of shopping for romance novels for me. He gets quite a chuckle from the silly titles and the semi-naked people on the covers. So, this was one of the books that apparently made him chuckle (It had both the requisite silly title and half naked male on the cover). I have never read anything by Sandy Blair before, but I love time travel novels so I was excited about reading it. I am happy to say that it did not disappoint.

Claire MacGregor owns an antique shop in Boston. An old friend of hers passes away and bequeaths his meager belongings to her. One thing leads to another and all of the sudden Cameron Macleod is standing in her bedroom naked as the day he was born. The story is very fast paced right from the get go. Both are instantly attracted to one another. Cameron winds up in lots of trouble trying to assimilate to this new place and time. I found these parts to be rather endearing and funny at the same time. Cameron really steals the show in this romance. Cameron has a very unique outlook on the present day that had me cracking up.

Blair takes the time to slowly form a relationship between Claire and Cameron. There is no jumping into bed at first sight here (even though they like what they see). I like this. It makes the book more believable, considering the premise (how believable can it be….a highlander travels through time). I felt that the ending was a little drawn out, but overall it didn't really detract from my enjoyment of the book. If you are interested in a light-hearted romp with a sexy highlander; give this one a try.

Sandy has also written A thief in a Kilt, A Rogue in a Kilt and A Man in a Kilt. I don't know if these are connected or not, but I'm definitely going to look into them.