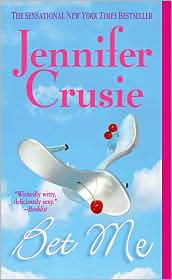 Title:
Bet Me
Author:
Jennifer Crusie
Publishing Date:
2004
Genre:
Contemporary
Rating:
A
Sensuality:
Hot
Minerva Dobb's boyfriend David has just broken up with her in a trendy local bar. The thing is Min is not really upset about it other than the fact that now she won't have a date to her sister's wedding. Min's two best friends Bonnie and Liza insist that Min needs a real man and scope out the bar for a potential candidate. Liza zeroes in on Cal Morrisey, a handsome man who exudes testosterone. Min usually avoids these type of men, but with Liza's insistence she heads over to him. When she gets close enough she overhears David making a bet with Cal that he can't get Min into bed in a month. Min leaves when she thinks she hears Cal accept the bet. Only Cal accepts the bet to get her to leave the bar with him, not sleep with her. What ensues is a humorous romantic case study of human behavior.
This is my second time reading
Bet Me
and I believe I enjoyed it more the second time than I did the first. The dialogue is outstanding. It's fast and snappy, clever and honest. Not just between Min and Cal but between Min and her friends and Cal and his friends. Also, Cal and Min's families have a large share of interaction as well. All of this leads to wonderful character development. Here is an example from a short passage between Min and her girlfriends:
"He wasn't the one," Bonnie said from below Min's shoulder, her hands on her tiny hips.

"Diet rum too," Min told the bartender, who smiled at her and went to get her drink.

Liza frowned. "Why were you dating him anyway?"

"Because I thought he might be the one," Min said, exasperated. "He was intelligent and successful and very nice at first. He seemed like a sensible choice. And then all of sudden he went snotty on me."

Bonnie patted Min's arm. "It's a good thing he broke up with you because now you're free for when the right man finds you. Your prince is on his way."

"Right," Min said. "I'm sure he was on his way but a truck hit him."

"That's not how it works." Bonnie leaned on the bar, looking like an R-rated pixie. "If it's meant to be, he'll make it. No matter how many things go wrong, he'll come to you and you'll be together forever."

"What is this?" Liza said, looking at her in disbelief. "Barbie's Field of Dreams?"

That's sweet, Bonnie," Min said. "But as far as I'm concerned, the last good man died when Elvis went."

"Maybe we should rethink keeping Bon as our broker," Liza said to Min. "We could be major stockholders in the Magic Kingdom by now."

Min tapped her fingers on the bar, trying to vent some tension. "I should have known David was a mistake when I couldn't bring myself to sleep with him. We were on our third date, and the waiter brought the dessert menu, and David said, 'No, thank you, we're on a diet,' and of course, he isn't because there's not an ounce of fat on him, and I thought, 'I'm not taking off my clothes with you' and I paid my half of the check and went home early. And after that, whenever he made his move, I thought of the waiter and crossed my legs."
Even though Min is such a cynic when it comes to finding love, as you can see from the above excerpt, her and Cal's story is a very romantic one. It is romantic without being sappy. Both of them have their issues. Meg has a chip on her shoulder about her size since she is a healthy woman and not a stick figure. Cal's friends refer to him as a serial dater, since he can't seem to commit. But in spite of all their flaws they realize that they will love each other regardless. Reading about them as they work through their differences is truly a treat. Theirs is a relationship that you know will last long after the last chapter is read.
This book was part of Nath's
Re-Read Challenge 2009
. You can read the other partipants' reviews
here
.
This book can be purchased in print or kindle format at
Amazon
.