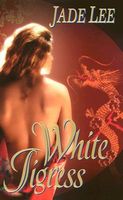 Title:
White Tigress
Author:
Jade Lee
Publishing Date:
2005
Genre:
Historical
Rating:
B+
Sensuality:
Hot
Book Disclosure:
I downloaded a free ebook from Amazon.
White Tigress
is the first in a series by Jade Lee. Lydia Smith left England to sail to Shanghai in search of her fiancé. Once there, she mistakenly accepts the help of a captain and ends up in a brothel, sold to Cheng Ru Shan. Ru Shan is a prominent businessman who buys Lydia in the hopes that her Yin will help his Yang reach full enlightenment. They both come to many misunderstandings because of culture clashes before they begin to realize that they truly care for each other.
I found
White Tigress
to be quite an entertaining story that captured my interest right from the beginning. Lydia is kind of a bone head for getting herself into the situation she is in by being impulsive and not thinking things through. Lucky for her, Ru Shan is the man who ends up taking her home at the brothel. She is lucky that a worse fate did not befall her. Ru Shan needs Lydia, for he believes that by being with her - as she is the Yin to his Yang - he will reach enlightenment. He treats her with respect and reverence. Even though she is there against her will, Lydia begins to see that Ru Shan is a good man.
Eventually, these two characters develop real feelings for one another. They have to learn to accept their different cultures. This was one of the highlights for me in the book. I enjoyed experiencing the different cultures through the character's different view points. There are lots of misunderstandings that they have to talk about and work through before they get to their happy ever after. I liked that this book was different from most regency historical books that I have read and I found the change refreshing. Lydia's impulsiveness may be off putting to some readers but overall, I found this book to be quite enjoyable. I recommend it for those who are looking for something different from the norm.