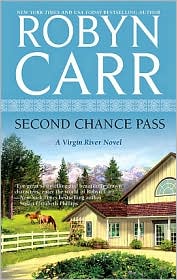 Title:
Second Chance Pass
Author:
Robyn Carr
Publishing Date:
2009
Genre:
Contemporary
Rating:
C+
Sensuality:
Warm
Book Disclosure:
I received a free copy from the RT Book Convention.
Second Chance Pass
is the fifth book in Robyn Carr's Virgin River series. Readers were introduced to Vanessa and Paul in the third book in the series. Paul was Vanessa's husband's best friend. He secretly has loved Vanessa through the years but has suffered in silence not wanting to ruin the friendships he has with both her and Matt. Things change with Vanessa's husband, Matt and Paul's best friend is killed in combat. Time has passed and Paul isn't sure if Vanessa is ready to move on and maybe accept him in a new role other than friendship. Little does Paul know that Vanessa is more than ready.
All right, I have to admit that this book irked me. As far as Paul and Vanessa's relationship went I thought things were just a mess. Initially, Paul and Vanessa had a pretty big obstacle to overcome if they were going have a lasting relationship based on love. But not only do they have the death of their husband/best friend hanging over them, Paul has an unexpected complication in his life back in Grants Pass. It really irked me that these characters had to deal with this situation, like they didn't have enough to deal with already.
The other major complication I had with the book was that there had to be at least five other storylines competing with Paul and Vanessa's. There were characters from past books getting significant page time. There were also new characters setting up future books getting significant page time. The actual relationship between Paul and Vanessa couldn't have been more than a few chapters and the above previous issue was basically washed away in the rain. Really, I think this has been my least favorite book in the series. Now having said all that, Robyn Carr's writing is still as fabulous as ever. Her characters are as wonderful as ever. It is probably a testament as to why I am so annoyed. I guess this book just seemed more transitional than anything and I felt that Vanessa and Paul didn't get the book they deserved.