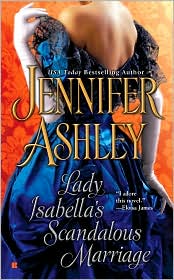 Title
:
Lady Isabella's Scandalous Marriage
Author
: Jennifer Ashley
Publishing Date
: July 2010
Genre
: Historical
Rating
: B
Sensuality
: Hot
Book Disclosure
: I purchased a new copy.
Lady Isabella's Scandalous Marriage
is book two in Jennifer Ashley's Mackenzie series. Isabella Scranton and Mac Mackenzie after a three year separation, are suddenly again in each others' lives. Neither of them has been able to move on with their life after Isabella left Mac due to a broken heart. She moved out, took half of the staff and lived her own life without Mac in it. Mac spent those years dwelling on all the wrongs he did to Isabella and forcing himself to become the man he knows Isabella needs. Isabella comes to Mac after discovering that someone has been forging his paintings. It's just the excuse Mac is looking for to get Isabella back in his life. He screwed up one time and he is not about to let her go again.
I have to admit that I am not really crazy about the reuniting of lovers past. I chose to put that aside and read
Lady Isabella's Scandalous Marriage
because I adored the previous book in this series
The Madness of Lord Ian Mackenzie
. While I didn't enjoy
Lady Isabella's Scandalous Marriage
as much as
The Madness of Lord Ian Mackenzie
, it was still a compelling read that had me turning the pages. It was a book packed with intrigue, heart-break, healing and passion.
It was clear from the beginning that both Isabella and Mac were still in love with each other. The marital problems they had stemmed from a lack of communication. This book is the journey they needed to take to learn how to work through their problems. They finally learn that it takes patience, understanding and above all communication to make a marriage work, not just a lot of heat and passion. There is also a suspense plot that is the catalyst to bring these two back together. I thought it was a tad on the weak side, but it did allow the relationship between Isabella and Mac to be center stage.
Here is what others had to say:
The Good, The Bad, The Unread
Dear Author
Book Binge
Smexy Books
Fiction Vixen
Babbling About Books and More
Alpha Reader
This book can be purchased in print or kindle format from
Amazon