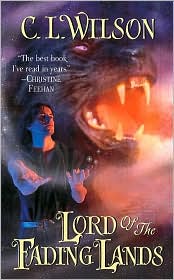 The Tairen Soul series by C. L. Wilson is new to me. I have been hearing quite a bit around blogland about this series. I had the first book
Lord of the Fading Lands
in my TBR pile and so being the good girl that I am, I decided to read it. This series is romantic fantasy. It is four books that span the relationship between Ellysetta Baristani, a woodcutter's daughter and Rain Tairen Soul, King of the Fey.
The setting for this series is set somewhere in medieval times and four different races of beings exist in this world: humans, Fey, Elds and Tairens. The Tairen are great huge beasts that look like lions with wings. Rain is both Fey and Tairen, which means he can change into a Tairen and the beast lives in his soul. The Fey and Eld can weave magic. The Fey wield it for good, the Eld for evil.
A thousand years ago, the Eld and the Fey had a great war and the Eld were all but banished from the Earth. Those that did survive hid and have been plotting and planning all these years. The Fey and Tairen are on the brink of extinction. It has been foretold that if Rain claims Ellie as his truemate he will save his people.
These books must be read in order. Ellie and Rain's story continues over the course of the series and the books are left open ended, continuing where the last one left off.
Series Reading Order:
1.
Lord of the Fading Lands
2.
Lady of Light and Shadows
3.
King of Sword and Sky
4.
Queen of Song and Souls