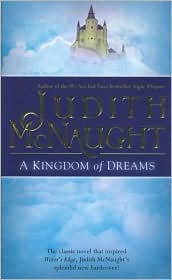 Title:
A kingdom of Dreams
Author:
Judith McNaught
Publishing Date:
1989
Genre:
Medieval
Rating:
A-
Sensuality:
Warm
Headstrong, seventeen year old Jenny Merrick has been living in a convent for the last two years. After causing her father one to many headaches, he shipped her off in the hopes that she would learn some discipline. Meanwhile the Scots and English have been waging war against one another. Many fierce battles have been fought and won by Royce Westmoreland in the name of the English King, Henry. He has been ordered to take the Scottish Earl of Merrick's keep. Stephan, Royce's brother happens to be in the right place at the right time and utilizes the opportunity to kidnap Jenny and her sister Brenna.
Judith McNaught is well known for her sweeping sagas rich with angst and passion.
A Kingdom of Dreams
is no exception. It happens to be one of the most memorable medieval stories I have ever had the pleasure of reading. Jenny and Royce are extremely vivid characters with larger than life personalities. Jenny is prideful and headstrong, but loyal and clever. Royce is presumptuous and stubborn, but intelligent and compassionate too. These two personalities ignite passionately against one another - first in anger, then eventually with love. Oh, but the journey is fraught with the highest of highs and the lowest of lows.
This is actually my second time reading
A Kingdom of Dreams
. I wondered if I would still enjoy it now, as much as I did a few years ago when I first started reading romance. I am very happy to say that it still holds the same magic it once did for me. As I was reading it again, there were some things that bothered me about the characters. I hated how Royce so quickly jumps to a conclusion about Jenny, when there wasn't any evidence. I could understand later on, once some things came to light, but not right away. Jenny annoyed me with how long she clung to her loyalty to her family even though they didn't deserve it. I will say that even though these things might bother a reader, McNaught does a beautiful job of getting the reader to empathize with her characters' plight. The dramatic ups and downs of the book are what make it so memorable and special. It is a true testimony to her talent that she can write flawed characters and still keep them lovable.