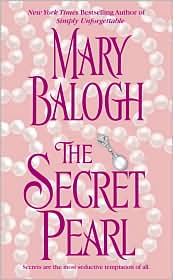 Title:
The Secret Pearl
Author:
Mary Balogh
Publishing Date:
1991
Genre:
Historical
Rating:
B+
Sensuality:
Warm
The Secret Pearl
begins with Fleur, a gentle woman in dire straights who hasn't eaten in two days because she can't find decent work, selling her body outside a theater. Adam, a nobleman, sees her in the shadows and is intrigued enough to proposition her. They go to an inn and he has sex with her. After he realizes that she was a virgin he feels very guilty. After they part ways he can't seem to stop thinking about her. He sends his secretary to find her and employ her as his daughter's governess.
Now, normally this type of book would set all my alarm bells ringing. The hero is already married. How on earth are the hero and heroine supposed to get their "happily ever after"? Not only is the hero married, but the heroine is terrified of the hero. It seems very unlikely that there will be a successful love match between these two characters. But luckily, the author was very talented in engaging me with a well written story and characters that I could really sink my teeth into.
Adam and Fleur are both good people put in an impossible situation that forces them to make difficult decisions. Adam was a well balanced man in that he was noble by sacrificing his own happiness, but never came across as stiff or priggish. Fleur was a little harder to like. She was sweet natured, but she was to quick to make assumptions about people and this was the main cause of a lot of her problems. In all actuality, the whole situation that Fleur comes to find herself in could have been avoided if she would have just stopped and thought for a minute. She continues to make these assumptions throughout the book and this might drive some readers crazy. I personally like lots of drama, so it didn't bother me as much as it might others.
There was a good cast of secondary characters that provided plenty of situations to allow the reader more insight into Adam and Fleur. The story slowly unfolds overtime and their relationship builds believably. I liked how the author was able to engage my feelings for these characters and I felt sympathy for them and their plight. Everything works out in the end and true to romance genre, they do get their "happily ever after".
Here is what others had to say:
Reading Adventures