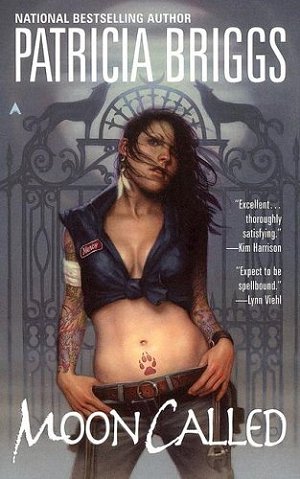 Patrica Brigg's has a wonderful urban fantasy series narrated by Mercy Thompson who is a coyote shapeshifter and a VW mechanic. In her world, mythical creatures such a elves, trolls, witches, vampires and werewolves exist. The more non-threatening of these species like fairies, trolls and gremlins have been outed to the human world. They are establishing liberal rights so they can exist along side humans. Mercy has an in to this reality because she was raised in a werewolf pack. Mercy finds herself acting a go-between for both worlds, helping to solve mysteries as needed.
Mercy Thompson is great character. She is down-to-earth and readers can relate very easily to her. She knows her limitations and is not afraid to ask for help if she needs it. There will be none of that Too Stupid Too Live (TSTL) crap for her. At the beginning of this series she has two men vying for her attention, Adam the local packs Alpha and Samuel from her past, three if you count the vampire Stefan. For those of you who are not fans of long drawn out triangles, never fear. That is not the case with this series. In
Iron Kissed
she makes her choice regarding the hero. Because each book builds off of the previous one, I recommend reading this series in order.
Series reading order:
1.
Moon Called
2.
Blood Bound
3.
Iron Kissed
4.
Bone Crossed
5.
Silver Borne
6. River Marked (releases Feb 2011)