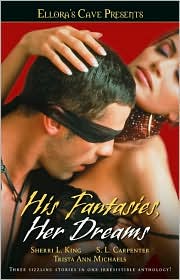 Title
:
His Fantasies, Her Dreams
Publishing Date
: 2007
Genre
: Futuristic, Contemporary (Erotic)
Sensuality
: Burning
Book Disclosure
: I received a free book from the RT Book Lover's Convention.
His Fantasies, Her Dreams
is an anthology of three stories by Ellora's Cave. I have reviewed each story individually below.
Title
:
The Jewel
Author
: Sherri L. King
Publishing Date
: 2003
Genre
: Futuristic (Erotic)
Sensuality
: Burning
Rating
: B
Samantha is kidnapped by a group of aliens looking for a birthday present for their king. Samantha finds herself surrounded by all kinds of strange creatures and these aliens want her to be a consort for their king. After Samantha comes to terms with her impossible situation, she discovers that maybe her new life isn't so bad after all.
I enjoyed
The Jewel
the best out of the three stories. I seem to be able to let go of reality better when the erotic story centers around a different planet or world. I liked the premise of the story and the creativity of all the different species the king has collected. More importantly this story revolved around the king and Samantha falling in love. I will say I was a little annoyed over how long Samantha kept up her defiance at her situation. But overall I found the story entertaining and a quick read.
Title
:
Learning to Live Again
Author
: S. L. Carpenter
Publishing Date
: 2004
Genre
: Contemporary
Sensuality
: Hot
Rating
: D-
Michelle heads home after breaking up with her boyfriend. While on the train home she enters her room to find a man dressed in a toga passed out in her cabin on her bed. After he sobers up the next day Michelle and Josh hit it off over dinner and begin a budding relationship.
I did not enjoy this story at all. It started off fine but eventually progressed into weird territory. Some of the conversations and dialogue made me uncomfortable. For example, there are scenes where the Michelle is talking about sex openly with her Mom and scenes where Josh is watching a porno with his Dad. I didn't find this to be remotely sexy. Plus there were times when a phrase or sentence in the dialogue didn't fit or make any sense. I recommend skipping this story.
Title
:
Fantasy Bar
Author
: Trista Ann Michaels
Publishing Date
: 2005
Genre
: Futuristic
Rating
: B-
Sensuality
: Burning
Jarod, a detective and good friend of a politician who has just been murdered, is searching for the victim/killer of the crime. He tracks Kira to Fantasy Bar on Klindor. This Fantasy Bar specializes in Fantasies. Customers come there to live out their sexual fantasies. There Jarrod discovers Kira is more than he bargained for and he must uncover what really happened that night his friend died.
Again the believability factor is easier to accept of a fantasy bar existing on another planet than my own. Kira is a sweet, likable character with a surprising internal strength. Jarod fortunately sees the truth about Kira early on and is instantly attracted to her. I actually wish this story was a little longer especially to set up the murder/mystery portion of the story. It had a lot of potential. There was a lot going on and it could have been fleshed out better if it had been longer. However, I did enjoy what was written.
This book can be purchased in print format from
Amazon