&nbsp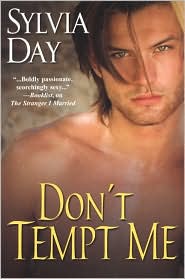 Title: Don't Tempt Me
Author: Sylvia Day
Publisher: Kensington
Release Date: April 2008
Genre: Historical
Length: 320 pages

I have enjoyed reading the first two books in this series. I haven't yet read the third, which was released November of last year. Don't Tempt Me is the fourth book in this Georgian Series.

Here is the summary:
WHO IS SHE?

Simon Quinn can have any woman he wants, but he prefers them jaded, worldly, and free of illusions. His life is one of danger and temporary pleasures. An Irish commoner, he has nothing more than his expertise as a lover and mercenary to recommend him and no title, property, or family to redeem him.

Lysette Rousseau is a deadly beauty who can seduce or betray with equal skill. She should be just the sort of woman Simon entertains, but something about her sets him on edge. At times she is a femme fatale he cannot abide, at others she is warm, sweet, and irresistibly alluring. His reactions to both sides of her are equally powerful, but for opposite reasons. It seems almost as if there are two women in one...

TWINS!

...one wounded and exploited, the other innocent but strong. Lynette Rousseau will do anything to reclaim the sister who doesn't remember her. She will gain the proficiency required to enter the underworld her sibling occupies. But how will she defend herself against the enigmatic, seductive Simon Quinn? A man who can liberate Lysette, but whose insatiable desires may ensnare Lynette forever... Excerpt

&nbsp

Title: Klondike Fever
Author: Kate Bridges
Publisher: Harlequin
Release Date: April 2008
Genre: Western
Length: 282 pages

I read Klondike Doctor when it was released early last year. I usually don't like category romances but I was surprised by this one. It was well written with well developed characters. The level of sensuality surprised me, as well and there was a very original scene involving lots of champagne. After reading the back blurb for Klondike Fever, as brief as it is, it sounded really interesting. I thought, "Why not, I might like it as much as I did Klondike Doctor. Plus it's really hard to find westerns these days."

Here is the summary:
It's a reversal of fortune when Klondike Lily, the richest woman to strike gold in the Yukon, is robbed on a coach headed to Alaska and shackled to fellow passenger, Dylan Wayburn, a man she used to work for as a servant. Excerpt

&nbsp

Title: Pursuit
Author: Elizabeth Jennings
Publisher: Grand Central
Release Date: April 2008
Genre: Romantic Suspense
Length: 436 pages

I actually don't know much about this book. I heard a rumor that Elizabeth Jennings is also Lisa Marie Rice over on the All About Romance message boards. I love Lisa Marie Rice, so if it's true, then I have to read this book. Unfortunately, there is little information on the author and she doesn't have a website.

Here is the summary:
With a powerful voice and unstoppable suspense, Elizabeth Jennings makes her Forever debut.

A shocking betrayal...her father's murder...and a life-threatening accusation...Heiress Charlotte Court has walked into a waking nightmare-one that sends her running from her wealthy home to anywhere she can hide.

Across the border in Mexico, Charlotte creates a new identity and finds refuge in the battle-torn arms of Navy SEAL Matt Sanders. Fleeing his past, Matt yearns to protect her and replace her pain with pleasure. But Charlotte can't trust anyone, not even someone she's starting to love. She knows she's a target-and out of sight, a soulless killer is zeroing in on his prey...

&nbsp

Title: Unlawful Contact
Author: Pamela Clare
Publisher: Penguin Group
Release Date: April 2008
Genre: Romantic Suspense
Length: 389 pages

Unlawful Contact is the third book in her romantic suspense series. I read Hard Evidence the second book and really enjoyed it. Pamela Clare has written a series of articles on her experience in jail (for research) that she has posted over at The Good, The Bad, and The Ugly. It was really moving to read those posts. Definitely, head over there and check it out.

Here is the summary:
Taken hostage by a convicted murderer while reporting at a prison, Sophie Alton has no idea that the man holding the gun to her head is the bad boy who was her first love in high school. Condemned to life without parole, Marc Hunter finds himself with no choice but to break out of prison after his younger sister disappears with her baby.

Though he regrets what he has to put Sophie through, he can't let anything get in the way of his stopping the corrupt officials who are set on destroying what's left of his family. But being near Sophie rekindles memories for both of them. As the passion between them heats up, so does the conspiracy to put both of them in their graves. Excerpt