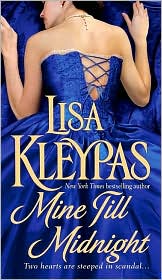 I can't believe I haven't done a Series Sunday post for Lisa Kleypas's popular Hathaway series. Ms. Kleypas happens to be one of my favorite authors and those of you who follow my blog I'm sure have realized this. Her writing style is so easy to read and all of her books seem to resonate with me.
The Hathaway series focuses on the Hathaway family who on the surface seems to be a bunch of misfits. They don't fit into the perfect mold that most of London Society deems essential for survival. After their parents died along with a string of other relatives, the head of the family, Leo was left with the title of Viscount and a slew of sisters to care for Amelia, Winnie, Poppy and Beatrix.
This series features each of these siblings getting their own book and gaining their happily ever after. I have read the first three books in the series. I don't necessarily think that these books need to be read in order, as each stands alone. But the reading experience would be enhanced (especially for Leo's story) if they are read in order. In my opinion, just go ahead and read them in order. I can vouch that they are all good and you won't be waisting your time!
Series Reading Order:
1.
Mine Till Midnight
(Amelia and Cam)
2.
Seduce Me At Sunrise
(Winnie and Merripen)
3.
Tempt Me At Twilight
(Poppy and Harry)
4.
Married by Morning
(Leo and Cathrine) coming Summer of 2010!
5.
Love in the Afternoon
(Beatrix)
*Fun Fact* Cam, the hero in
Mine Till Midnight
first appears in
The Devil in Winter
as a secondary character. He was appealing to readers then and easily garnered attention. Readers wanted him to get his own book and eventually he did!