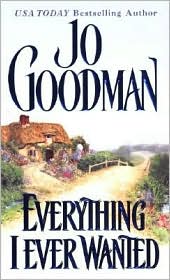 One of my favorite historical authors is the talented Jo Goodman. I only recently discovered her and she has an extensive back list that I eventually hope to get through. I stumbled across
Let Me Be the One
, the first book in The Compass Club Quartet, in my library's downloadable audio book collection. I listened to it and loved it. Lucky for me my library has all four audio books which I have plans to listen to as I am driving.
The Compass Club books take place during the Regency period. It features four men who went to school together. Each was considered an outcast of some sort and they all banded together calling themselves The Compass Club, which was derived from their names North, South, East and West. They each get their own book which features a mystery they must solve for the Colonel Blackwell. The interesting thing about these books is they all take place at the same time and certain scenes are told in multiple books, but from different points of view.
I am reading these books in order, but I don't think it's necessary to do so. Since the books overlap, you really could read the books in any order and not lessen the reading experience.
Series Reading Order
Let Me Be the One
(Earl of Northam and Libby Pinrose)
Everything I Ever Wanted
(Earl of Southerton and India Parr)
All I Ever Needed
(Marquess of Eastlyn and Sophia Colley)
Beyond a Wicked Kiss
(Duke of Westphal and Ria Ashby)