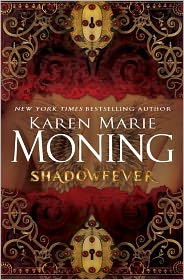 Title:
Shadowfever
Author:
Karen Marie Moning
Publishing Date:
January 2011
Genre:
Urban Fantasy
Rating:
A-
Sensuality:
Warm
Book Disclosure:
I downloaded an ebook from Barnes & Noble to my Nook.
Shadowfever
is the long awaited conclusion to Karen Marie Moning's Fever Series. MacKayla Lane AKA Mac, after the huge cliffhanger in the last installment
Dreamfever
, is about to finally get answers to all her questions. What did happen to her sister, who is Jerrecho Barrons and more importantly just who is MacKayla Lane and how is she supposed to save the world?
I have been enthusiastically awaiting the release of
Shadowfever
ever since
Dreamfever's
release. I am happy to say that the book was able to live up to my lofty expectations. I was a little worried n the beginning when things looked bleak for Mac. I couldn't imagine how Ms. Moning was going to fix the situation in which Mac had found herself. Once things turned around the book really took off for me. It was one revelation after another that kept blowing me away. This book had more twists and turns than the Indy 500. I loved every minute of it.
While I did feel that Mac and Barron's relationship finally came to the place readers have long waited for it to get to, I also was surprised at the way it happened. I thought Barron's would do the taking, but that was not the case. I will refrain from saying more because I do not want to give away anything. Suffice it to say, you will just have to read it yourself.
Shadowfever
was a great conclusion to a fantastic series. Ms. Moning left a few questions unanswered and hinted at other books. I am so excited that she has more stories to tell because I definitely am looking forward for more of her Fae magic!