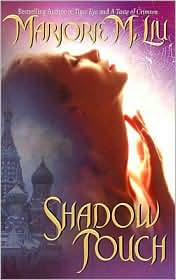 This Sunday, I am going to focus on Marjorie M. Liu's Dirk and Steele series. Ms. Liu has created a very interesting series that revolves around a team of agents all with superpowers. Think x-men if you will. Good vs. Evil. These agents all possess a special power. Some can shift-change, others can manipulate electric impulses. Some can read an objects history, others can communicate with animals. Each agent is unique in their ability that they bring to the team.
This series has been extremely well written, in that she takes impossible situations and seemingly makes them sympathetic. The characters themselves might possess super powers, but they are human just the same. I find them very personable and I can relate to them. I have enjoyed all her stories, with
Shadow Touch
being my personal favorite. Here is the series order and I personally recommend reading them in order. Throughout the series there are connecting story arcs that run through several books. (Although, I did start with the second book first. It thoroughly hooked me!) Each book stands alone in that it has a self contained romance.
1. Tiger Eye (Dela and Hari)
2.
Shadow Touch
(Elena and Artur)
3. The Red Heart of Jade (Dean and Mirabelle)
4. A Dream of Stone and Shadows (story in Anthology:
Dark Dreamers
) (Charlie and Aggie)
5. Eye of Heaven (Blue and Iris)
6. Soul Song (M'Cal and Kitala)
7. Where the Heart Lives (story in Anthology:
My Big Fat Supernatural Honeymoon
8.
The Last Twilight
(Amiri and Rikki)
9. The Wild Road (Lannes and Jane Doe)