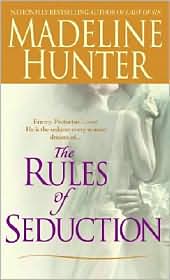 Madeline Hunter is one of my favorite authors. Her books are very easy to read and yet there is a depth to them that keeps me thinking long after I have read the story. Her most recent series of books revolves around a group of brothers, the Rothwells. Set in regency England, each brother receives his own story. It also coincides with the Longworth family who are introduced through Alexia in
Rules of Seduction
.
The Rothwells are a prominant family with Christian, the eldest brother being the Marquess of Easterbrook, followed by Hayden and Elliot. Each brother finds love in the most unlikely of places and Ms. Hunter weaves a masterful, solid tale. If I understand correctly from Madeline's website,
Sins of Lord Easterbrook
completes this series.
I believe these books can be read in any order. Each stands on its own. However, here is the series reading order:
1.
Rules of Seduction
(Hayden and Alexia)
2.
Lessons of Desire
(Elliot and Phaedra)
3.
Secrets of Surrender
(Roselyn and Kyle)
4.
Sins of Lord Easterbrook
(Christian and Leona)