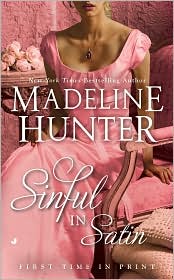 Title:
Sinful in Satin
Author:
Madeline Hunter
Publishing Date:
October 2010
Genre:
Historical
Rating:
B
Sensuality:
Hot
Book Disclosure:
I purchased this as an ebook through BN.
Sinful in Satin
is the third book in Madeline Hunter's Rarest Blooms series. Celia Pennifold, the daughter of an infamous courtesan had managed to escape from reality for a few years as she lived in isolation among a few women in the country. When her mother dies, Celia is forced to come to terms with her identity and reconcile her estate. Celia chooses to leave the Rarest Blooms and live in a modest home her Mother's estate left to her. She is surprised by a tenant, Mr. Jonathan Albrighton one night when he accosts her in her room by mistake.
Madeline Hunter's writing is like an old friend. I love revisiting and catching up with her. Jonathan and Celia ignite on the page with their forbidden sexual tension. Jonathan is not sure whether or not Celia or her mother was involved with political ties, linking them to traitorous activities. His attraction to Celia and vice versa makes things very tense while he is trying to find answers.
I could have done without all the political intrigue. That is just me though; I have never been a fan of the spy plot and could care less about traitors and such. I felt that Jonathan was an upstanding character with much strength and confidence given his situation with his family. Curious as to where his strength came from. Celia was no wilting flower and was more the aggressor than one would suspect at first glance. I can always admire a heroine who goes after what she wants.
Since it is a series, there are glimpses at the mysterious Duke of Castleford. Will he be paired up with the lovely Daphne of the Rarest Blooms? I see hero material, but will he be redeemed? He is the ultimate, debauched rake after all.
Dangerous in Diamonds
will be released in May 2011. All I can say is that I am hooked.
Here is what others had to say:
Fiction Vixen
Book Binge