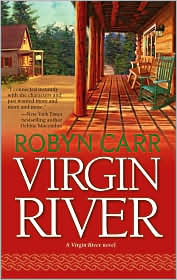 The Virgin River series by Robyn Carr takes place in the quaint little mountain town of Virgin River, California. This series is straight contemporary and deals with a wide range of subjects from substance abuse, post traumatic stress disorder, teenage pregnancy and many more. Readers will be easily drawn into the stories with characters who are richly drawn with compelling struggles.
So far, I have only had to pleasure of reading two of the books in this delightful series and I have loved each one. From my experience, I would suggest reading this series in order. The stories tend to blend together continuing where one left off. Each book does have a lead female and lead male protagonist with a conclusive story. But there are secondary characters that continue story lines throughout the books. Everything is smoothly touched on so if you do jump in the middle or go a long time between books, the story still comes seamlessly together.
Series Reading Order:
1.
Virgin River
(Mel and Jack)
2.
Shelter Mountain
(Paige and Preacher)
3.
Whispering Rock
(Brie and Mike)
4.
A Virgin River Christmas
(Marcie and Ian)
5.
Second Chance Pass
(Vanni and Paul)
6.
Tempation Ridge
(Shelby and Luke)
7.
Paradise Valley
(Liz and Rick)