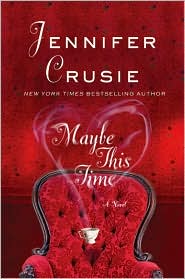 Title:
Maybe This Time
Author:
Jennifer Crusie
Publishing Date:
September 2010
Genre:
Contemporary/Paranormal
Rating:
A-
Sensuality:
Warm
Book Disclosure:
I borrowed a copy from the library.
Andie Miller goes to see her ex-husband North whom she hasn't seen in ten years to ask that he stop sending her alimony checks. After all, she has every single one he has sent over the years and not a single one was ever deposited. But seeing North is a shock to Andie's senses. She can't believe the overwhelming feelings that come rushing back after that brief encounter. Plus, she somehow finds herself the nanny to two unruly children who have recently been orphaned which North now has sole custody. When Andie arrives to whip the children into shape, she realizes it's not the children who are the problem, it's the unruly ghosts that are haunting the house.
The last Jennifer Crusie book that I read earlier in the year,
Wild Ride
was a very big disappointment. I really wasn't sure what to expect with
Maybe This Time
, but I was definitely intrigued by the summary. It turns out that
Maybe This Time
is a huge score for me and I think fans of Ms. Crusie will delight in this latest release.
Where to begin...the characterization is great. Andie and North just jump off the pages. Andie and North are opposites. Andie is whimsical, flighty, impulsive and fun, whereas North is responsible, organized and serious. We get to see a lot of Andie through North's eyes and vice versa North through Andie's. These characteristic s are what attracted the other, but it is also what eventually drove them apart.
Even though these two aren't together through a lot of the book, we relive their past relationship through flashbacks including how they first met. I think this is the first book with the reconciling couple theme that I have really enjoyed. Ms. Crusie gets it right. This time I really do believe that they can make it work the second time around.
One little odd ball thing that I would like to point out with this book was that there were references to electronics that lead me to believe that this book was written a few years ago. For example, the little girl Alice likes to listen to her Walkman instead of an iPod and also there are references to them watching videos instead of DVDs. It just made the story seem dated. At any rate, this one was a page turner and it worked really well for me.
Here is what others had to say:
Dirty Sexy Books
Novel Addiction
Smart Bitches, Trashy Books
Book Fare Delights
Medieval Bookworm
Smexy Books
My Book Addiction