The Bride
is February's book for Nath's Re-read Challenge. I had a poll posted on my sidebar and this one was the most popular, although it was a close race.
The Bride
was one of the first romance books I ever read and I just fell in love with it. I originally gave it a B+ rating. I went on to glom many of Julie Garwood's other books. After reading The Bride for a second time, I find that it just doesn't hold the same magic for me that it once did. I believe my tastes have evolved and what once worked for me doesn't now. I will try to explain in my review below.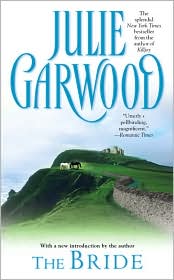 Title:
The Bride
Author:
Julie Garwood
Publication Date:
2002
Genre:
Medieval
Rating:
C+
Sensuality:
Hot
Alec Kincade is a very important Scottish laird. He has been ordered by his king to choose one of Baron Jamison's very English daughters. Alec immediately comes to the conclusion that Jamie, the Baron's youngest daughter is the prize out of all the sisters. He chooses her and sets back for Scotland right away. Jamie has a feisty spirit and is well matched with Alec. He has never had a woman look him in the eye, let alone stand up to him as Jamie does.
When I first read
The Bride
a few years ago, I was completely engrossed in Alec and Jamie's story. I very quickly read through the book almost non-stop, without any breaks. While with the second time it easily held my attention, I didn't read it with the same enthusiasm. I started noticing little things, negative things. I came to realize that Jamie and Alec are far too perfect and seem almost fairy-tale like. Jamie can do no wrong and everybody is easily captivated and won over by her. Alec is the epitome of patience and understanding. It bordered on syrupy, and overly sweet.
I realize that this can be appealing, especially as an escape from reality. Once upon a time, it did appeal to me. Now, however, I want a little bit more realistic characters in my story. I think I would categorize this book under a guilty pleasure read. A guilty pleasure read for me is defined as a book that creates an escape from reality. It's not a book that is a great literary masterpiece. It is just easy, mindless entertainment.
Other parts of the book I found humorous then and I still did this second time around. Jamie has a way of doing things a little differently than others. This leads to Alec's exasperation, but the reader will get a kick out of it. There is a villain in this story. It's laughably ridiculous. It's supposed to add tension, but the villain is cartoonish at best. The villain's part is small, so the annoyance is relatively minor.