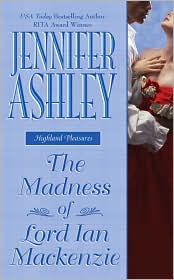 Title:
The Madness of Lord Ian Mackenzie
Author:
Jennifer Ashley
Publishing Date:
May 2009
Genre:
Historical
Rating:
A-
Sensuality:
Hot
Book Disclosure:
This is
Shameless Amyless's Book Club
pick for October and I checked it out from the library.
The Madness of Lord Ian Mackenzie
is the first book in a new series, Highland Pleasures by Jennifer Ashley. Ian Mackenzie spent most of his childhood locked up in an asylum until his brother, the Duke of Kilmorgan came to his rescue. Since then, he has been living his life as normal as he can. Up until he meets Beth Ackerley, that is. Mrs. Ackerley is engaged to a broke playboy, Lyndon Mather. Ian is an expert at appraising treasure and once he lays eyes on Beth he is certain she is a rare and very valuable treasure, one that would certainly be waisted on Mather. He proceeds to break up their engagement and is determined to make Beth his wife.
Wow, what a treat! I might as well jump on the bandwagon along with everybody else who has written a glowing review of this book. I really enjoyed it. Ian was such an unusual character in that he is depicted as being mad. He isn't really mad. He's quite brilliant actually. I loved how when he focuses on something, he really, really focuses on it. He gets tunnel vision. Everything else fades into he background. So, imagine the intensity when Beth becomes his focus. I can sum it up in one word - Yum!
This is the first time I have ever had the pleasure of reading something by Jennifer Ashley. I am honestly shaking my head in wonderment at how this can be, because she is a wonderful writer. This book had all the things I love in a romance. She has great dialogue between her characters, great pacing and the characters are very vivid. Even the secondary characters who have enticed me to keep coming back for more.
If I had to have one complaint it would be how Beth handles a few things. There is a murder mystery part of the plot and Beth gets it into her head that she needs to solve this murder or Ian will be forever hunted down my the dastardly inspector. She has a few TSTL (To Stupid To Live) moments where her safety and judgement are in question. Other than that, I loved it! I can't wait to read more!
Here is what others had to say:
Rambling about Romance, etc.
I Just Finished Reading
Racy Romance Reviews
My Thoughts on Nothing Much at All
Breezing Through
Musings of a Bibliophile
Randi Romance Reader
Smexy Books
Dear Author
Tracy's Place
Good Books, Bad Books and Everything in Between
Rosario's Reading Journal
Gossamer Obsessions
This book can be purchased in print or kindle format from
Amazon
.