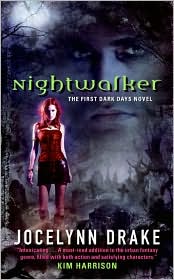 I recently stumbled on The Dark Days Series by Jocelynn Drake. It is straight urban fantasy narrated in the first person point of view by Mira, a centuries old Nightwalker, otherwise known as a vampire. Mira has carved a niche for herself in Savannah, Georgia after finally breaking away from her European makers. She meets the infamous vampire hunter Danaus and learns of an impending war between the Nightwalkers and the Naturi. She must team up with Danaus if she is to defeat the Naturi and save Nightwalkers and humans alike.
This is not a romantic series, although there is sexual tension between Danaus and Mira. For the most part, the focus is on the war between the Nightwalkers and the Naturi, but there are other supernatural creatures that exist as well, such a werewolves and warlocks. Not to mention it isn't entirely clear what Danaus is. Danaus doesn't fall into any category very easily and has unusual powers.
So far I am really enjoying this series not because the plot or storyline is very original, because let's face it. It's not. I am enjoying it because of the execution of the story with the wonderfully written character, Mira. She is constantly questioning the right/wrong or good/bad of different creatures and what she must do in order to survive. She also many times must decide what is the best for the majority of her people and not just for herself. These lead to some very difficult choices to make and broadens the defining line between black and white. I really enjoy this philosophical aspect to the book. It adds just the right amount of depth without becoming too preachy.
I am of the opinion that this series should be read in order, as each of the books build off of its predecessor.
Series Reading Order:
The Dead, The Damned, And the Forgotten
(prequel to
Nightwalker
releases August 25, 2009 in the anthology
Unbound
)
Nightwalker
Dayhunter
Dawnbreaker
Pray for Dawn
Wait for Dusk
(releases August 2010)