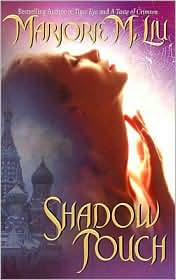 Title:
Shadow Touch
Author:
Marjorie M. Liu
Publishing Date:
February 2006
Genre:
Paranormal
Rating:
A
Sensuality:
Warm
Shadow Touch
is my favorite book in Majorie M. Liu's Dirk and Steele Series. It is the second book of the series and I fell in love with Artur and Elena. Elena Baxter is kidnapped one night while she is volunteering in the children's cancer ward. See, Elena has the special ability to heal people's bodies. Apparently, someone knows her secret and they decide to kidnap her and run experiments on her. Meanwhile, Artur Loginov works for a detective agency, Dirk and Steele. This agency employs people who have special abilities. Artur can sense a person's memories by touching an object they have touched. He too, is kidnapped from his home and brought to the same facility that Elena is at. There they forge an unbreakable bond and work together to escape their captors.
I love everything about this book and it works for me on so many levels. First of all Elena and Artur are wonderful characters. Artur is so damaged from his tragic childhood. He had to do things to survive that no child should ever have to face. Artur really believes that he is not a good man because of his past and the things he has done. Because of his gift that he uses to find missing people and solve murders, he is constantly seeing the worst in people. It's as if he has lost his faith in humanity. His own and others. Then he meets Elena and everything changes for him in the matter of a few moments.
The way Liu writes Artur and Elena's story it is so poignant and touching. Often times I find stories that take place over a couple of days rushed and the romance lacking a certain believability. This is not the case at all with
Shadow Touch
. It is like two old souls coming together. Liu is able to pen and incredibly touching love story between these two people. Huge bonus to her for being able to do this without the characters mentally lusting for each other.
All the characters are well drawn, but Liu is able to leave somethings a mystery. For example, there is a fascinating, ambiguous character Rictor. Elena and Artur sense that he is not human, but just what is he? Readers will be wondering right along with the characters, yet Liu leaves some questions unanswered in regards to Rictor. Not to worry, I know for a fact that Rictor appears in other books later in the series.
I read this book for
Nath's
Re-Read Challenge. I originally gave it a B+ rating, but having read it a second time I think it is worthy of an A grade. Really, this incredible book just hooked me and it stands the test of time! To view a list of participants for this month and their reviews click
here
.
This book can be purchased in print or kindle format from
Amazon
.