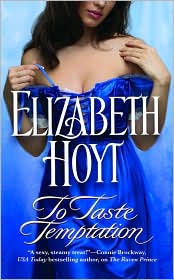 Elizabeth Hoyt made her big debut into the world of romance in 2006 with the award winning novel
The Raven Prince
. She was voted best new author and
The Raven Prince
won for Most Luscious Love Story in
AAR's 2007 Readers Choice Annual Poll
. I am very excited to report that Ms. Hoyt has started another series. This time it's a quartet called Legend of the Four Soldiers.
This series is about four soldiers that fought in the French and Indian War. Each book takes place after the war when the soldier comes home and has to integrate back into society. Luckily for him he finds his lady love and lives happily ever after. Each soldier has his own stand alone love story, but there is an overall mystery that runs through the series and hopefully will come to fruition in the final installment. I happened to read the third book first. I didn't feel lost in reading about the romance, but I could tell that I didn't understand all the details surrounding the war mystery. It would be a judgement call by the reader on whether or not to read the series in order.
Series Reading Order:
1.
To Taste Temptation
2.
To Seduce a Sinner
3.
To Beguile a Beast
4.
To Desire a Devil
(releases November 09)