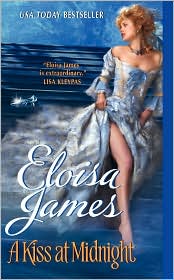 Title
:
A Kiss at Midnight
Author
: Eloisa James
Publishing Date
: August 2010
Genre
: Historical
Rating
: A
Sensuality
: Hot
Book Disclosure
: Purchased a new copy.
A Kiss at Midnight
is the first book in a new series by Eloisa James. Ever since Kate's father died and left everything to her Stepmother, Kate has been relegated to rooms in the attic. Her status is more representative of a servant than that of the actual Lady she is. Her stepsister Victoria is bitten on the lip by her little dog rendering her usual pretty face less than picturesque. Not wanting anything to impede her matchmaking ambitions, Kate's stepmother insists that Kate take Victoria's place at the ball Prince Gabriel is hosting. This meeting with the Prince will ensure Victoria's marriage to his nephew. Although to Kate's distress, the Prince turns his eye to her.
A Kiss at Midnight
parallels the popular fairy tale Cinderella. Kate is the dutiful daughter who is tormented by her vain Stepmother and Stepsister. She attends a ball wearing glass slippers, dances with a prince and has a Godmother to make all her dreams come true. It might seem like this book could be farcical and too over the top, but that is not the case at all. It is a beautiful story with tenderness, heart-break, humor and a touching ending.
Eloisa James' writing is clever and poignant. Her characters are all full of verve. Kate never pities her situation and decides to take matters into her own hands to secure a better future for herself. Marianna the infamous Stepmother, while vain and selfish is not
eeevil
. Victoria is good natured if simple-minded. Gabriel is strong and willful but needs a kick in the pants when it comes to Kate. His half-brother Wick is just the person to do it. Finally, Kate's Godmother Henry is eccentric but not ridiculous.
A Kiss at Midnight
is a perfectly balanced and wonderful read. Don't miss this book!
Here is what others had to say:
Dear Author
The Good, The Bad, The Unread
The Romance Dish
Medieval Bookworm