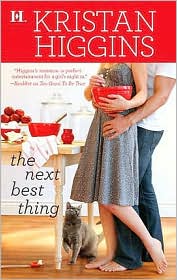 Title
:
The Next Best Thing
Author
: Kristan Higgins
Publishing Date
: February 2010
Genre
: Contemporary
Rating
: B+
Sensuality
: Warm
Book Disclosure
: I received a used copy from paperbackswap.com
Lucy Lang was only married for 8 months before she joined her Mother and Aunts as a Black Widow. It has been five years since Jimmy died in a car accident. Lucy finally feels it is time for her to move on with her life and maybe start dating again. Lucy does have a small problem. She has been sleeping with her best friend Ethan who also just happens to be Jimmy's little brother. Lucy and Ethan have kept their physical relationship a secret from their friends and family for some time now. Mostly this is Lucy's idea because she is afraid of how everyone will react to the news. Things get complicated when Lucy tells Ethan that she wants to end their "friends with benefits" back to just "friends".
The Next Best Thing
is my second book by Kristan Higgins. I find that I really enjoy her writing style. Lucy narrates the story in first person from her point of view. This gives the book a more Woman's Lit vibe than typical romance novels. Lucy has major issues to work through with the death of her husband, wanting to move on with her life and start dating again. Plus she has this pesky little problem with her best friend Ethan that she doesn't know quite how to deal with. The Next Best Thing is not just Lucy figuring out her relationship with Ethan but she has to figure out her life too.
This book is very touching and runs the reader through a whole slew of emotions. I laughed. I cried. I was happy for Lucy and Ethan. Yet at other times I was angry at Lucy for her treatment of Ethan and then at Ethan for not communicating better with Lucy. I was definitely emotionally invested in these characters. I thought Lucy's journey was very entertaining, but some readers are going to be frustrated with Lucy. She has a lot of baggage that she has to work through before she can commit to her new life and it takes time. I really liked that Jimmy's image is never vilified to make it easier for Lucy to move on. The author definitely doesn't take any easy paths, but luckily for the reader, humor is always in the forefront. This book parallels real life and that is what makes it a winner in my mind.
Here is what others had to say:
Dear Author
Breezing Through
Avid Book Reader
Renee Reads Romance
Book Addict
Renee's Book Addiction