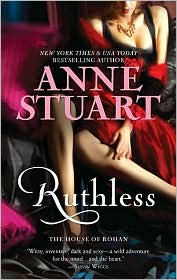 Title
:
Ruthless
Author
: Anne Stuart
Publishing Date
: August 2010
Genre
: Historical
Rating
: B
Sensuality
: Hot
Book Disclosure
: I received a copy from Paperbackswap.com
Ruthless
is the first in a new series by Anne Stuart, The House of Rohan. Viscount Rohan, Francis Alistair has been the leader of the Heavenly Host which is a society dedicated to the deviant pleasures, the vices of life. He is bored and jaded until Elinor Harriman walks into his life. Elinor Hartman is a lady by birth, but her circumstances have left her and her sister in dire straits. She comes to his chateau looking for her mother before she gambles the last of their money away. Rohan toys with her and finds her quite the thing to eliminate his boredom. He is intrigued by her situation and he can't seem to keep her out of his mind. Somehow he finds himself being her protector.
I found
Ruthless
to be a very entertaining tale albeit a little over the top. It reads very dramatic. The characters swing either very bad or very virtuous. However, you easily know where everyone stands. By far the most interesting character was Lord Rohan. He is definitely the bad boy and jaded hero. He has no qualms looking out for his own interests. Yet after meeting the virtuous Elinor, he finds himself acting completely out of character. Actually what really is happening is that Elinor has brought out a part of himself that he has kept hidden.
What kept
Ruthless
from getting a higher grade from me (although a B is still quite a good grade) is the abrupt ending. I really felt like thing were wrapped up all too quickly. The romance between Elinor and Rohan for most of the story was divided by the bad boy falling for the good girl. There was not enough focus at the ending to wrap up all the details. All of the sudden Rohan and Elinor come together in this big crashing way yet the major issues holding them back earlier in the story were either not resolved or dealt with in a sentence or two. Everything was resolved much too quickly for my tastes. However, for those fans of Stuart who love her bad boy heroes, they are going to enjoy Rohan's personality. It's a fun book, but it's not without slight problems.
Here is what others had to say:
The Good, the bad, the Unread
One Book Away from Heaven
Smexy Books
Book Lovers, Inc.