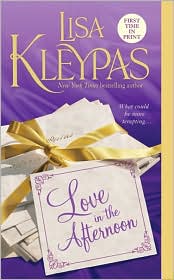 Title:
Love in the Afternoon
Author:
Lisa Kleypas
Publishing Date:
July 2010
Genre:
Historical
Rating:
B
Sensuality:
Warm
Book Disclosure:
I received a used copy from paperbackswap.com.
Love in the Afternoon
is the fifth and final book in Lisa Kleypas's Hathaway series. Beatrix, the youngest Hathaway sibling, finally gets her story. It all began innocently enough when Beatrix's friend Prudence reads her a letter from Captain Christopher Phelan. Beatrix never could resist a wounded soul and insists on writing Christopher after Pru callously disregards his letter. Over the course of the next few months Bea becomes Christopher's shining light amid the dark war. After the war ends he plans to come home and clam Pru as his own. Only he doesn't realize it's not Prudence he's in love with, it's Beatrix.
Love in the Afternoon
while not my favorite in the Hathaway series is still a pleasant read. Beatrix who has always marched to the beat of her own drum prefers the company of animals to that of most people. She is known for her ability to tame almost any wild creature, which is exactly what she does with Christopher once he leaves the war and has to integrate back into society. His gruff and rude behavior is no match for Beatrix's stubborn patience.
For some reason I am having a difficult time pin pointing why exactly I didn't like
Love in the Afternoon
as much as I did the other books in this series. It could be little things, like the fact that Bea and Christopher are apart in the beginning of the book. They exchange a series of letters which establishes their relationship. Then I think that coupled with the fact that it takes Christopher a while to realize that it was Beatrix who wrote the letters and not Pru. Pru is a selfish twit of a girl and Beatrix is obviously a much, much better person and the fact Christopher doesn't see it right away is a big mark against him. Overall it is a cute story. I mean it's Lisa Kleypas. It's still an enjoyable read, just not my favorite.
Here is what others had to say:
Breezing Through
Dear Author
Dirty Sexy Books
Impressions of a Reader
Book Binge
The Reading Spot