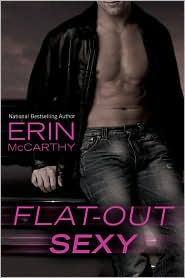 Title:
Flat-Out Sexy
Author:
Erin McCarthy
Publishing Date:
2008
Genre:
Contemporary
Rating:
B+
Sensuality:
Hot
Tamara Briggs is a widowed mother of two. Her husband Pete was a race car driver and died two years in a car crash. She has just started dating again and it trying to play it safe with a man who has a nice steady risk free job. The only problem is he is boring as dirt and she is not attracted to him at all. At a party she accidentally spills her wine all down Elec's front shirt and she can't help but notice how he fills out his shirt. The attraction between them sizzles immediately.
I have read one other book by Erin McCarthy,
Heiress for Hire
and I absolutely loved it. While I didn't like
Flat-Out Sexy
as much as
Heiress for Hire
it was still a satisfying read. Ms. McCarthy is a good storyteller. Her stories have a nice flow, good dialogue, enjoyable characters.
Flat-Out Sexy
is no exception. Elec (what kind of name is that) is a wonderful man. He is caring, thoughtful and completely focused on Tamara. Even though his is a race car driver and comes with high risk, Tamara would have to be an idiot to pass him up.
One of the best points in favor of this book was the realness to Elec and Tamara's relationship. Tamara and Elec's could be my next door neighbors and this book is the story of how they met. It's basically a simple story. No one needs protection from a stalker or psycho "bad guy". It is a story about two very normal people falling in love under completely normal circumstances. "Well, this sounds boring," you might say. Let me assure you that is not the case. The story flows beautifully and the cast of characters keeps things interesting.
There is a brief introduction into Suzanne and Ryder's story. Suzanne is Tamara's best friend and Ryder is another race car driver. They have a lot of baggage. They used to be married, but for whatever reason it didn't work out. I for one would like to find out. The secondary plots didn't distract, but instead only helped to enhance Elec and Tamara's relationship.
Here is what others had to say:
Romance Reviews Today Blog
Stacy's Place on Earth
Book Binge
The Good, The Bad, The Unread
Romance Novel TV
Ramblings on Romance etc.
Dear Author