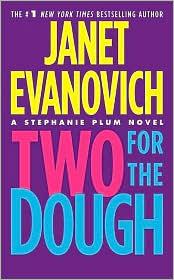 Title:
Two for the Dough
Author:
Janet Evanovich
Publishing Date:
1996
Genre:
Mystery
Rating:
B+
Sensuality:
Kisses
Two for the Dough
is book two of the Stephanie Plum series. Stephanie is a bounty hunter for her cousin Vinnie. She teams up with Joe Morelli, a local vice cop to bring in Kenny Mancuso. Kenny shot his friend Moogy Bues in the knee and had the poor luck to do it in front of an off duty cop. Stephanie thinks this will be an easy job. Unfortunately, things turn complicated rather quickly. Caskets are missing, body parts start turning up and the more Stephanie learns about Kenny the more she wants to stay as far away from him as possible.
Two for the Dough
is a quick, easy read and Stephanie is a fun character to ride along with. This case has her working closely with Joe Morelli. Stephanie is still uncertain what her feelings towards Joe are. The reader can tell that Joe and Stephanie are starting to care about each other. She is still attracted to him, but doesn't want to get involved with him for fear of getting hurt. She basically avoids dealing with these feelings and focuses on her job.
Stephanie is still new to the bounty hunter world and continually makes mistakes, but she is the type to learn from them. There are plenty of high-jinks and silly antics to keep the pages turning. Stephanie's jeep gets stolen and her Granny gives her a 1950s something Buick that is practically a character all on its own. Stephanie's Granny plays a significant role in this book as well and she sure is a hoot. Readers will either love her or hate her. I happened to love it.