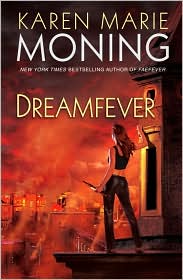 Yes, yes, yes!!!!! We are in the home stretch people.
Dreamfever
will be released in less than 30 days. I know the book I have posted for Nath's Re-read Challenge is
Outlander
(one of my absolute favorite books), but with
Dreamfever
coming out next month, I feel the need to re-read
Faefever
. I realized in my excitement about the excerpt for
Dreamfever
in RT Magazine, I forgot to post the excerpt from Karen's newsletter. According to Karen it will be the last one too. Maybe this will tie you over in the mean time.
I kicked the table at him. It crashed into his shins. I picked up a lamp from the end table. Flung it straight at his head. He ducked again. I grabbed a book. It thumped off his chest.

He laughed, dark eyes glittering with exhilaration.

I launched myself at him, slammed a fist into his face. I heard a satisfying crunch and felt something in his nose give.

He didn't try to hit me back or push me away. Merely wrapped his arms around me and crushed me tight to his body, trapping my arms against his chest.

Then when I thought he might just squeeze me to death, he dropped his head forward, into the hollow where my shoulder met my neck.

"Do you miss fucking me, Ms. Lane?" he purred against my ear. Voice resonated in my skull, pressuring a reply.