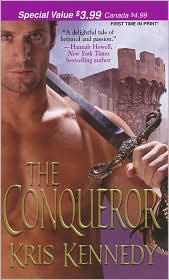 Title:
The Conqueror
Author:
Kris Kennedy
Publishing Date:
2009
Genre:
Medieval
Rating:
A-
Sensuality:
Hot
Guinevere de l'Ami finds herself facing marriage to a man she has no desire to marry after her father passes away. As his heir, she comes with vast lands that many noble men want to acquire. There is much political unrest currently in England. King Stephan is slowly losing his loyal vassals to Henry. Guinevere tries to run away to an abbey the night one of her neighboring lords tries to forcibly wed her. On her way to the abbey she is rescued by an unknown knight. The knight turns out to be none other than Griffyn Sauvage. Their father's were once good friends, but a treasure came between the two men and Gwyn's father took Griffyn's home from him. Griffyn had made a vow to take it back one day and soon he would at the war's end. Complications arise when Griffyn finds himself inexplicably drawn to Gwyn. She is the light in his dark existence.
I read this book because of
Holly's
and
Wendy's
reviews. I happen to really enjoy the medieval genre and I haven't come across any recently published books that have caught my attention. I am so happy to say that
The Conqueror
lived up to my expectations and actually managed to surpass it! This is Kris Kennedy's first book and hats off to her, because it is a great read!
I really enjoyed the connection that Griffyn and Gwyn form for one another at the beginning of the story. They are both amazed by their attraction to the other and they easily express their affection and act on it. They don't play any games when it comes to expressing their feelings, but there is plenty of conflict in terms of politics. The angst in this story is derived from each person's loyalty to a different king. While some readers may find Gwyn's loyalty excessive, I found it in keeping with her personality. It kept my heart thumping along this intense ride.
What really makes
The Conqueror
stand out from the masses is the interesting subplot with the treasure that Griffyn and Gwyn's families have guarded for centuries. Neither one of them fully understands what it is they are guarding and as they are discovering clues about the treasure so is the reader. I also enjoyed Griffyn's relationship with his friend and Alex. I liked that Alex was multi-faceted and he brought a depth to Griffyn that was needed to balance out the story. Kris Kennedy has the ability to really draw the reader into her story with a creative plot and likable characters. I highly recommend this one for fans of the medieval genre.
This book can be purchased in print or kindle format from
Amazon
.