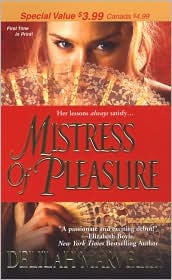 Title:
Mistress of Pleasure
Author:
Delilah Marvelle
Publishing Date:
September 2008
Genre:
Historical
Rating:
B
Sensuality:
Hot
Maybelle de Maitenon is the granddaughter of a famous courtesan and went to live with her after her father's death when she was twelve-years-old. It has been her grandmother's dream to open up a school to teach men the art of pleasuring a woman. Finally, that dream is made a reality but she needs Maybelle's help after suffering a stroke. Maybelle might be knowledgeable about sex, but her experience comes from books, not the actual act of participating in it. She doesn't want to have anything to do with the school. She would much rather be exploring the pyramids of Egypt or traveling the world, but out of obligation to her grandmother she gives in to her cajoling.
Maybelle decides it is time for her to loose her virginity and notices a very handsome, regal man at a soiree. She sets her sites on the Duke of Rutherford and promptly proceeds to seduce him. Things don't go according to plan and their encounter is made public. Edmond worried about the scandal that will befall Maybelle offers her marriage. Maybelle fears loosing her independence and refuses. The Duke left with no other choice, decides to enroll in The School of Gallantry and sets his sites on changing Maybelle's mind.
I think the best word to sum up my experience with
Mistress of Pleasure
is fun. This story is just an all around entertaining, pleasant read. The tone is much more light-hearted than I am used to when reading historicals and made for a refreshing change. Maybelle and Edmond are fighting a battle of wills. The intending battle has a few mishaps that end in folly and mayhem. Maybelle thinks they are too different, he being a Duke and she the daughter of a bastard. Edmond sees things a little differently. At this point, what is one more scandal in his eyes? His father already alienated his family from the
ton
. He has no love for society and he would be happy to thumb up his nose at the lot of the pretentious morons.
There are some great scenes in
Mistress of Pleasure
. One of them is when Maybelle is hosting her first class at The School of Gallantry. Aside from Edmond, she meets four other interesting men and they each have a different reason for attending. Maybelle assigns them homework and she and the students reactions are laughable. There is just a lot of fun material in the book. The only thing I would warn readers about is that some suspension of disbelief will be needed when reading this book. Maybelle does not act like a typical heroine of this time period. She has very modern thinking. It fits with her upbringing, but it would be hard to imagine a woman of that time doing some of the things she does. The whole idea for The School of Gallantry is pretty far fetched in of itself, even though is does make for rather entertaining fodder.
Here is what others had to say:
Alpha Heroes
Romance Novel TV
Night Owl Romance
Good and Bad Books
This book can be purchased in kindle format from
Amazon
for the astonishing low price of $2.55!