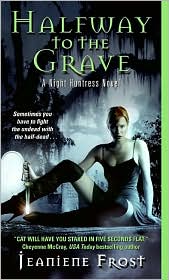 Title:
Halfway to the Grave
Author:
Jeaniene Frost
Publishing Date:
2007
Genre:
Paranormal
Rating:
A
Sensuality:
Hot
Catherine Crawfield is half vampire, half human. Her mother was raped by a vampire when she was a teenager. Cat and her mother have since lived with her grandparents in a small town in Ohio, ostracized from everyone. Cat has taken it upon herself to rid the world of vampires one at a time. On the weekend she sets herself up as bait and lures them to their death. She has been doing this for the past seven years with much success. Though, recently she has finally met her match when she tries to pick up a strikingly handsome vampire, Bones. He turns the tables and captures her instead. Her choice is to join up with him or die. So Cat does the only thing she can and agrees to help Bones capture certain vampires.
Halfway to the Grave
had me hooked with the very first chapter. Cat narrates the story from the first person point of view. She is very young and has lived an isolated life. She has never had any close friends and those that she did try to make ended badly with her being betrayed. She is very cautious when it comes to people's intentions. She hates vampires and thinks them evil, even though she is part vampire herself. The author equates Cat's narrow minded prejudice of vampires to that of any other prejudice be it religion or nationality.
Cat has a lot of growing up to do and along the way she discovers that not all vampires are bad. Take Bones for instance, who Cat learns to trust and eventually love. Bones is so very open with his feelings for Cat and this works really well with the fact that the story is told in first person by Cat. Bones is also very demonstrative and verbal with Cat. He lets her know exactly what he wants from her. I found his directness very appealing.
Last but not least
Halfway to the Grave
has plenty of humor, both from Bones and Cat. Both characters have the sarcasm down pat and there are lots of quotable passages. I love how Bones aptly nicknames Cat, Kitten after his first run in with her. It is one of the few times I have found the hero's use of pet names appropriate. Actually, there are a lot of funny references to Cat's nickname and other puns of the feline variety. This was a fast, fun read and I can't wait to read more about Bones and Cat's future adventures.
Here is what others had to say:
Urban Fantasy Land
Fayeflame Book Reviews
The Symposium
Flames Rising
Dark Novels
Dear Author
Darque Reviews
The Bizarre Library
Smart Bitches, Trashy Books
This book can be purchased in print or kindle format from
Amazon
.