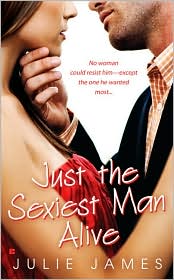 Title:
Just the Sexiest Man Alive
Author:
Julie James
Publishing Date:
2008
Genre:
Contemporary
Rating:
B+
Sensuality:
Warm
Taylor Donovan is a very ambitious young lawyer working her way up the ranks of a prestigious Chicago law firm. She has been assigned to a sexual harassment case based out of Los Angeles. She moves temporarily to the LA branch and gets set up in a nice apartment. In addition to her sexual harassment case she has been assigned to coach the famous actor Jason Andrews for his new role in a law drama. Unimpressed with Jason's celebrity, she puts Jason in his place when he rudely fails to show for a meeting. Jason is shocked and intrigued that Taylor isn't drooling all over him. He has finally met his match in the sharp, beautiful Taylor.
Just the Sexiest Man Alive
is a solid new addition to the contemporary genre. It has solid, well developed characters. Taylor is a little prickly with her ambitions to reach the top. She is all work and no play and might be hard to relate to for some readers. She still had enough vulnerability for me to like her. She lightens up when she is with her two girlfriends. At first glance, Jason is arrogant and self-centered, but eventually the reader learns more about him. As his relationship grows with Taylor he gets his humanity back and becomes a person, not just a celebrity.
Two things about this book I would like to highlight. First, is that it is extremely apparent that Ms. James knows her stuff when it comes to the courtroom. My knowledge is limited, but the author was very descriptive with the court case Taylor was working on and James's expertise shined like a beacon. Secondly, I want to commend Ms. James on her ability to create incredible sexual tension between Taylor and Jason without them actually having sex. I was surprised to realize that with only a handful of pages left, Jason and Taylor hadn't actually done the deed. This was an excellent debut and I will be looking forward to more by her in the future.
Here is what others had to say:
Closetwriter
Gossamer Obsessions
Book Binge
I Just Finished Reading
The Thrillionth Page
Dev's Good Reads
Stacy's Place on Earth
Tracy's Place
Dear Author
The Book Smugglers
Books, Books and More Books
The Good, The Bad, The Unread
You can purchase this book in print or kindle format from
Amazon
.