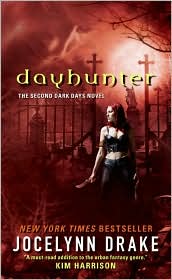 Title:
Dayhunter
Author:
Jocelynn Drake
Publishing Date:
May 2009
Genre:
Urban Fantasy
Rating:
B
Sensuality:
Warm
Dayhunter
is the second novel in Jocelynn Drake's Dark Days Series. It starts off right where
Nightwalker
ends, with Mira and Danaus needing to recover after the battle they just fought. Even though they managed to win round one, the war is far from over. Now Mira will have to travel to Venice, Italy to stand before the Coven and work with them to find away to stop the Naturi. Of course that is easier said than done, when Mira isn't sure exactly who is on who's side. Mira hates court politics, but she will put aside her own reservations and do what is necessary to save her people.
So far, I am enjoying this urban fantasy series, Dark Days. Mira makes the book for me. Of course, Danaus isn't to bad himself. Although, since the book is written from Mira's point of view, she steals the show. What I love about Mira is that she is an incredible mix of strength and vulnerability. She is tough when necessary, especially when called upon to make decisions that will impact the lives of so many people. These are not easy decisions for her to make and her sadness and regret are palpable.
Mira is very different from most of her kind, especially the leaders. The members of the Coven all seem to have their own agenda and will stop at nothing to obtain it. They are cruel and are not opposed to torture and murder to get what they want. Mira is a natural born leader, even though she has no ambitions to be a leader. People just naturally follow her and look to her for advice and support. It is very interesting how Mira doesn't fit in and the secrets behind her differences. She also had powers that no other Nightwalker has and yet she doesn't ever misuse this power. Even though Mira is essentially good, she never comes across as too goody-goody. It is very easy to relate to her plight and sympathize with her.
One thing I would like to point out for romance readers, is that this is not a romance. So far Danaus and Mira are enemies, who for the time being are setting aside their differences in order to fight a common enemy. When the war is over, they each plan to kill the other. But along the way, they are learning that they may have more in common than they previously thought and the lines of good and evil are becoming more and more blurred. I love seeing Danaus struggle with his feelings for Mira. He essentially believes that she is evil and has no soul, yet as he spends time with her he is becoming disabused of his preconceived notions. Having said that, things might be moving to slowly for some fans of romance. Personally, I am still enjoying the series and have plans to continue reading it.
Here is what others had to say:
Darque Reviews
My Blog 2.0
Chica Reader
SciFiGuy.Ca
Fantastic Book Review
The Book Smugglers
Janicu: On Vox
Book Reviews by Jess
Bitten by Books
Amberkatze's Book Blog
Literary Escapism
This book can be purchased in print or kindle format from
Amazon
.