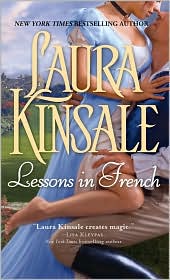 Title:
Lessons in French
Author:
Laura Kinsale
Publishing Date:
February 2010
Genre:
Historical
Rating:
B+
Sensuality:
Warm
Book Disclosure:
Received an ARC copy for review from a publicist.
Callie Taillefaire at the age of twenty-seven has resigned herself to be a spinster. She has been jilted not once, not twice, but three times at the altar. Callie didn't mind for herself, as she never really loved those men, but she did want to please her Papa. Callie's heart is still tied to her childhood sweetheart, her next door neighbor Trevelyn. Trevelyn went away to France after Callie's father caught him doing unspeakable things to his daughter. Ten years have passed and Trev's mother is on her death bed. He comes back and finds he also still has feelings for Callie.
Lessons in French
is a definite gem of a book. It has a very light-hearted vibe to it that I found pleasantly refreshing. But it's also balanced by a touch of angst, and the two go hand in hand to create an enchanting read. Callie is a heroine that readers are going to fall in love with. She is terribly shy and is often embarrassingly awkward in social situations. Callie has a bull, Hubert that she has raised since he was a baby and he is almost like a pet dog.
When Trev appears back in her life, mayhem and havoc ensue. Callie and Trev were always getting into trouble going off on one adventure or another. Trev was always the ringleader, tasking Callie with some impossible role which she delights in playing. Callie can never seem to resist Trev's charms, and she is so lucky to have all his attention. But both don't think they are worthy of the other and that is where the angst comes into play.
Lessons in French
is a solid comeback for Ms. Kinsale.
Here is what others had to say:
Leslie's Psyche
Love Romance Passion
Good Books, Bad Books and Every Book in Between
Dear Author
Musings of a Bibliophile
Alpha Heroes
Babbling About Books
Cindy Reads Romance
This book can be purchased in print or kindle format from
Amazon
.