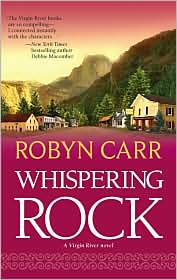 Title:
Whispering Rock
Author:
Robyn Carr
Publishing Date:
2007
Genre:
Contemporary
Rating:
B
Sensuality:
Warm
Book Disclosure:
Borrowed from the library
Whispering Rock
is the third book in Robyn Carr's Virgin River series. These books are definitely interconnected and I don't recommend reading this one without having read the other two books in the series first. Brie and Mike have known each other for years now. Mike is a good friend to Brie's brother Jack. Mike has always had feelings for Brie since he first met her even though she was married. Mike kept his distance since it was obvious Brie was in love with her husband. Now Brie is divorced from Brad after she found out he was cheating on her with her best friend. Brie was devastated by that betrayal. Brie focused on her job as a prosecutor for the attorney DA. She was working hard to put a serial rapist behind bars, only he walked. He came after Brie and brutally raped and beat her. Brie needs to heal from this attack and Mike is there to help her.
This summary is actually only the beginning of what is going on in this book as
Whispering Rock
once again heads back to the town of Virgin River. There are familiar characters such as Mel and Jack, Preacher and Page (Preacher totally cracks me up in this book) as well as a host of new characters' that get story time in this book. This can be a positive and negative to the book. On the one hand, I love the sense of community that Virgin River has to offer. It is great to read about all the different characters and what is going on in their lives. The bad thing is that it leaves less time for the main romance with Mike and Brie. I think as long as the reader is already an established fan of Carr's work, they will be happy with
Whispering Rock
.
I love how Carr was able to connect Brie's rape and tie it into what was happening within the teen community of Virgin River. Mike is hired as a law officer and he investigates a series of date rapes that have happened locally. This establishes new relationships and characters and might eventually lead to future books. All in all I thought this was a solid read. I enjoy revisiting this town and its inhabitants.
Here is what others had to say:
Casee from Book Binge
Rowena from Book Binge
Scooper Speaks
Good Books, Bad Books & Everything in Between
Read With Me
This book can be purchased in print or kindle format from
Amazon
.