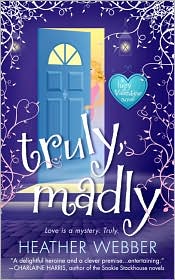 Title:
Truly, Madly
Author:
Heather Webber
Publishing Date:
February 2010
Genre:
Paranormal
Rating:
B-
Sensuality:
Subtle
Book Disclosure:
Received an ARC from a friend.
Truly, Madly
is the first book in the new Lucy Valentine series by Heather Webber. Lucy Valentine comes from a long line of matchmakers. Her family has a very special trait that is passed down from generation to generation where they can see people's auras. When Lucy was fourteen she lost her power to read auras and gained the gift of finding lost items. Lucy has always felt like a failure. Her father needs her help to run his matchmaking business after he has a heart attack. Lucy knows she is no good at it, but she doesn't want to let her father down. When one of her clients needs help tracking down his childhood sweetheart, Lucy teams up with one sexy PI, Sean Donahue. She instantly gets thrown into a mystery when an unexpected dead body pops up. Hopefully, with Sean's help she will get to the bottom of this mystery.
Truly, Madly
is told in the first person from Lucy's point of view. The writing style is very light hearted and humorous. The tone is reminiscent of Janet Evanovich's contemporary romances like
Hot Stuff
, not necessarily her Stephanie Plum books. It has a fun, quirky characters and nothing too dark or heavy. The romance is very subtle, just establishing Lucy and Sean's relationship. Lucy's relationship with her family and friends also adds to the story.
Lucy at first doesn't appreciate her gift. She doesn't find it very useful and that frustrates her. As the story progresses, she discovers that her gift does have its advantages. This helps to add growth to Lucy's character. Although at times, it seemed like we are only scratching the surface of these characters. They did seem a little superficial. Hopefully, as the series continues the characters will have more layers and depth. Readers who want to take a break from the broody, dark world of demons, vampires and shifters will want to give Lucy Valentine a try.
Here is what others had to say:
The Reading Spot
Rabid Reader
BookMom
Emmegail's Bookshelf
Eve's Fan Garden
Reading With Tequila
Vixen's Daily Reads
My World of Books
This book can be purchased in print format from
Amazon
.