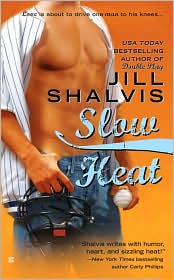 Title:
Slow Heat
Author:
Jill Shalvis
Publishing Date:
February 2010
Genre:
Contemporary
Rating:
B
Sensuality:
Hot
Book Disclosure:
I purchased a new copy.
Samantha McNead is the publicist for a Major League Baseball team. One of the players Wade O'Riley has been getting a lot of bad press the team doesn't need. Sam concocts a plan to pretend to be Wade's girlfriend to take some of the heat off of Wade and therefore the team. Only Sam and Wade had a one night stand a year ago and Sam has never been able to get over Wade. Since she is dedicated to her job, she is willing to go to whatever lengths she needs to, even stir up her feelings in order to help the team.
Unless you have been hiding in a cave, you must know that
Slow Heat
has been getting rave reviews all over the internet. Jill Shalvis is
hit
or
miss
for me and after all the fantastic publicity, I decided to give her latest release a try. I am happy to say that this one was a hit for me, as well!
Slow Heat
has great pacing, while the romance is still front and center with enough side conflicts to keep things interesting. One of my favorite things about the book was Wade's confidence. Many times Sam would push him away or lash out at him. Of course Sam was doing this to protect herself from getting hurt and Wade caught on fairly early. He doesn't get discouraged. He is able to see through Sam's act and put Sam in check. Wade has his own commitment issues, but he is still remains the pursuer.
As much as I liked Wade being the pursuer, I wish that Sam would have thrown him a bone every now and then. She kept pushing him away up until the very end. I would have liked to see her come to terms with her fear of letting go and take a chance. I don't think she grew enough by the end of the story for me to really believe she had worked out all her issues.
One other thing I'd like to point out was that I enjoyed the addition of Wade's father and Sam's nephew, Tag. These two characters helped to showcase both Sam and Wade's commitment issues and were the catalyst that eventually got them to work through those issues. Plus, these side characters were able to add laughs when needed.
Here is what others had to say:
Dear Author
Book Binge
Leslie's Psyche
Pearl's World of Romance
Smart Bitches, Trashy Books
Stacy's Place on Earth
The Good, The Bad, The Unread
Babbling About Books and More
This book can be purchased in print or kindle format from
Amazon
.