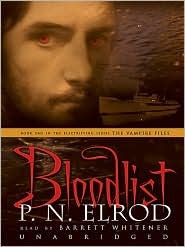 Title:
Bloodlist
Author:
PN Elrod
Publishing Date:
1990
Genre:
Mystery/Paranormal
Rating:
B
Sensuality:
Subtle
Book Disclosure:
I received a used copy from Paperbackswap.com.
Jack Flemming wakes up wet, with no recollection of how he got that way. His clothes are torn and bloody; his body is badly beaten and bruised. As he is running away from a man and is shot with a bullet amazingly he is unharmed. Turns out Jack died and is now a vampire. Jack knows his death was no accident but he doesn't know why he was murdered. Now he is on a mission to find out what happened with the help of his new friend.
I am sure some of you might be wondering about this unusual choice of book for me to read, but P.N. Elrod is going to be at the RT Convention and I wanted to give this author a try since they have been around a long time and was one of the first to write about vampires. Bloodlist takes place in Chicago in the 1930s during that period of Al Capone with gangsters and such. The story is told in first person by Jack Flemming who is an investigative reporter. Turns out he has to investigate his own death because he can't remember.
I found this short book to be an enjoyable read. There isn't much romance. Mainly this book is a mystery. It is descriptive and I really enjoyed the time period. I haven't hardly read any books set in the 1930s. It is fun to read about the cars and clothes. The mystery was good, but fairly violent. However, it wasn't unbearably gross or anything.