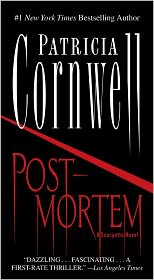 Title:
Postmortem
Author:
Patricia Cornwell
Publishing Date:
1990
Genre:
Suspense
Rating:
B
Sensuality:
Subtle
Book Disclosure:
I borrowed an audio book from my library.
Postmortem
is the first book in the Kay Scarpetta series by Patricia Cornwell. Kay Scarpetta is a medical examiner. A serial killer is on the loose in Washington DC. He has been brutally raping and murdering women and Kay has been the medical examiner awoken in the early hours on Saturday mornings. She must take the clues the killer leaves behind to help the police apprehend him.
Postmortem
reminded me a lot of the CSI shows on TV. Only instead of Gill Grissom, you have Kay Scarpetta. Kay is a divorced woman in her early 40s. She has no children, but a niece Lucy who is very important to her. But she doesn't see Lucy very often. Kay is married to her job, which is pretty much her sole focus in her life at the moment. She does have a lover, Bill but romance fans will be disappointed because in this book there wasn't much to the relationship.
Despite the lack of romance, I found I enjoyed listening to the book. It is probably not a book I would typically read. Kay is the narrator and she goes into a lot of graphic detail about what the murderer did to the women. It definitely isn't for the faint of heart. I thought the research and details were very well done. I think fans of suspense or mystery will enjoy this book.