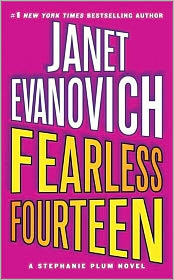 Title:
Fearless Fourteen
Author:
Janet Evanovich
Publishing Date:
2008
Genre:
Mystery
Rating:
B
Sensuality:
Subtle
Book Disclosure:
I borrowed an audio copy from my library
Fearless Fourteen
is part of Janet Evanovich's Stephanie Plum bounty hunter series. In this book Stephanie is looking for a missing woman. This woman is possibly tied to a bank robbery that happened 20 years ago. Stephanie finds herself the temporary guardian of a teenage boy. She also helps Ranger with a body guard assignment for a famous aging singer.
This review is going to be short and sweet. If you have read other Stephanie Plum books, number fourteen is just more of the same. There is not really anything more I can say about this series having read and reviewed the other thirteen books. Stephanie is with Joe, but can't commit. Hijinx and trouble are still the norm for Stephanie and her crime fighting team. Although, no cars blow up in this book, Stephanie does manage to dye herself blue. This series is great if you want an escape.