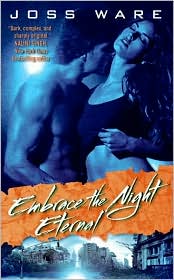 Title:
Embrace the Night Eternal
Author:
Joss Ware
Publishing Date:
2010
Genre:
Futuristic
Rating:
B
Sensuality:
Hot
Book Disclosure:
I borrowed a copy from the library.
Embrace the Night Eternal
is the second book in the Envy Chronicles. Five men were somehow preserved in a cave for 50 years. Simon Japp was one of those men. As he emerged from the cave, the world he once knew no longer existed. Most of the population died and geographically continents and water shifted. Simon and the other men find themselves in a town called Envy. There Simon meets Sage. He and Sage team up to go undercover in another community as a pretend married couple to learn what they can about Remington Truth. On this mission Simon and Sage battle their attraction for each other.
I enjoyed
Embrace the Night Eternal
a little more than I did the first book in this series. It had nonstop action from the beginning. I liked that there was more romantic development between Simon and Sage than there was between the characters in the first book. Sage was a very likable character. Simon had a few hang ups with his past that caused him to doubt himself around Sage. Unconfident heroes usually bug me, but Simon didn't dwell on it too much. I think this was due to the fact that there was a lot of action and not a lot of internal monologues, which I really liked.
There was lots of development as far as the overall story arc was concerned. You can tell the author has a definite direction with the series. I also enjoyed the little inserts from the diary that Sage found and how it tied into the community they went to visit. I liked the story and the series. I have plans to continue on with it.