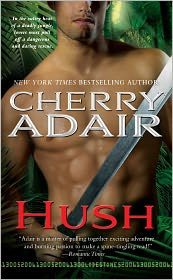 Title:
Hush
Author:
Cherry Adair
Publishing Date:
April 2011
Genre:
Romantic Suspense
Rating:
B-
Sensuality:
Hot
Book Disclosure:
I purchased a new copy for my eReader.
Hush
is the first book of Cherry Adair's new suspense series, Lodestone. Zach Stark wakes up after a night of hot sex with a beautiful woman Acadia Gray, whom he picked up in a bar the night before. He wakes up to find himself and Acadia being held at gun point by a group of savage men. These men have been paid well to kidnap him and Acadia. Neither is sure who the target of the kidnapping is or why for that matter. But one thing is for sure, Acadia and Zach will have to work together if they are to get out of the jungle alive.
Hush
started out with such great promise and intrigue. I was riveted for that first chapter or two and then things took a little turn for the worse. It's just that the book is really over the top. The action is way, way intense and dare I say it, just a little bit unbelievable. However, that can make for a fun read. Just be sure to remember when reading to add your suspension of disbelief, otherwise you might just have a serious case of the eye-rolls.
Zach and Acadia have mad, smokin'-hot attraction for each other, that even when faced with guns, scary bad guys and massive explosions, they can take the time to ogle the other person's butt, pectorals or glorious ta-tas. Okay, I am exaggerating a little bit, or maybe not. But these two had the mental lusting thing going on, all the while running from the bad guys in a jungle in South America. Sometimes I have a little bit of trouble with this scenario. I have to admit that the book is action packed and will keep readers on the edges of their seats. Just don't take this book to seriously and you will (hopefully) be entertained, like I was.