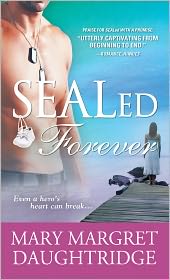 Title:
SEALed Forever
Author:
Mary Margaret Daughtridge
Publishing Date:
May 2011
Genre:
Contemporary
Rating:
B+
Sensuality:
Hot
Book Disclosure:
I purchased an ebook for my Nook.
Garth Vale, after suffering very serious injuries as a SEAL in Afghanistan, has been placed on duty at a covert airport in North Carolina. Planes that fly under the public's radar sometimes use the airport Garth is stationed. Garth discovers an infant in a box on one such plane. Garth doesn't want to take the baby to the authorities because he fears for the child's life. Instead he takes the baby to the local doctor, Bronwyn Whitescarver. Garth and Bronwyn are drawn together as they decide what is best for the infant.
I really love Daughtridge's writing. She just sings to me. I love that her characters are so REAL. Out of all the SEAL books that I have read - and believe me, I have read a lot - hers just seem to feel so REAL to me. This is another great book by Ms. Daughtridge. Garth is quite a yummy hero. He is one of those guys who knows what he wants and goes after it. He takes one look at Bronwyn and decides she is the woman for him. LOL! Bronwyn isn't anywhere near ready to have Mr. Vale and a battle of wills ensues. Garth's interest in Bronwyn could have come across as stalkerish, but because of his earnestness and honesty it works for me.
Garth has these certain expectations built up in his mind about Bronwyn and the type of wife she ought to be for him. As the story progresses, Garth realizes that these expectations might not be right for him or Bronwyn. He really does a lot of growing throughout the story. One thing I would have liked to see would be Bronwyn working through her issues with her family. It is a big conflict in the story, but not once does she actually confront her family, although she does come to her own terms with these issues. Also there is a small paranormal plot that was interesting, but not overpowering.