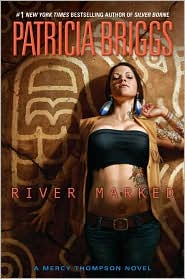 Title:
River Marked
Author:
Patricia Briggs
Publishing Date:
April 2011
Genre:
Urban Fantasy
Rating:
A-
Sensuality:
Warm
Book Disclosure:
I purchased a new ebook for my Nook.
River Marked
is the 6th book in Patricia Brigg's Mercy Thompson series. In this installment, Mercy and Adam are on their honeymoon. They are up in the woods of the North West, where a series of mysterious events have left the local authorities puzzled. As you know, where Mercy goes trouble follows. Mercy and Adam find themselves unexpectedly involved in helping with the problems that keep occurring along the river, problems that involve missing or injured people.
River Marked
was such a treat for me. I loved that the author takes pity on romance fans and gives them what they want. As fans of Mercy and Adam we get to witness their wedding!!! In most romance novels the books end with the happy ever after and usually that doesn't include the wedding ceremony. In
River Marked
the reader is actually invited to the wedding. I thought that was a lovely surprise. I also loved that the book was entirely devoted to Mercy and Adam. Pretty much everybody else is absent from this book. While for me that proved to be a good thing, fans of Samuel and Sebastian might be disappointed.
As far as the actual mystery goes, I was really floored at the viciousness of the "bad guy". There is some very serious sh*t going down in this book. It was ugly and unpleasant to read about. I will say one thing for Ms. Briggs, she doesn't shy away from the hard stuff, as readers of this series know. However, there is balance with the good development between Mercy and Adam. This is another fantastic installment in the Mercy Thompson series. Fans will not be disappointed.