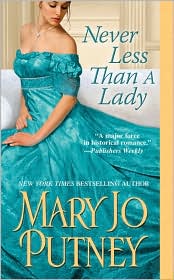 Title:
Never Less Than a Lady
Author:
Mary Jo Putney
Publishing Date:
2010
Genre:
Historical
Rating:
B+
Sensuality:
Hot
Book Diclosure:
I received a used book through Paperbackswap.com
Never Less Than a Lady
is the second book in Mary Jo Putney's Lost Lords series. I have to admit I put off reading this book because the first book in the series was just okay. But then one day I was in the mood for a historical and nothing was catching my eye until I read the back cover of this book. Nothing like a hero saving the day and rescuing a woman being kidnapped, and then since he's looking for a wife, decide that she will do! LOL! I am a sucker for these kinds of stories. Anyway, this one was pretty good and I enjoyed it better than the first book of the Lost Lord series.
Julia has some problems. Her late husband's family is after her and has plans to hurt her. Her first husband was abusive and to say Julia is skittish of men is an understatement. Alexander has always had a thing for Julia and once he learns of her precarious situation he comes to her rescue. Alex can't resist helping someone in need. He also has always emotionally distanced himself from people in the past to avoid getting hurt. Both he and Julia have a lot of leaning to do if they are going to make a successful go of their marriage.
Never Less Than a Lady
is one of those books that is a study in marriage, especially for two people who are thrown together quickly. They have to learn to communicate and work through all their little quirks and insecurities. I found this book to be a quite enjoyable read. I recommend it for fans of the theme "Marriage of Convenience".