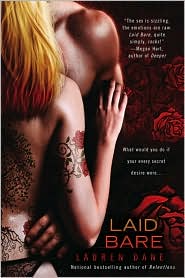 Title:
Laid Bare
Author:
Lauren Dane
Publishing Date:
2009
Genre:
Contemporary/Erotic
Rating:
B-
Sensuality:
Burning
Book Disclosure:
I received a free copy from this year's RT Book Convention.
Laid Bare
is the first book in Lauren Dane's Brown Sibling series. Erin Brown a wild, free-spirit rocker chic and Todd Keenan straight laced, very conservative cop had a fling which didn't work out. Ten years later, things have changed. Todd has accepted himself and all his kinks but Erin has had an extremely unfortunate life changing event. Todd and Erin meet up back in Seattle and resume their relationship, however things are more complicated.
With
Laid Bare
I had mixed feelings. On the one hand, the book had certain components that I enjoy: lots of dialogue, unique characters and plenty of action to move the plot along. On the other hand there were things that I am not such a fan of, such as a heroine that is hard for me to relate to and an alternative lifestyle for the characters that seemed out of place or fast paced. Erin was not a typical heroine and she was quite unique in her make-up. This could be good or bad depending on your point of view. If you are a very conservative person, she is going to be difficult to relate too. I typically don't relate well to these types of heroines, but because Erin wasn't overly aggressive, I found her appealing. I really liked her directness. It was refreshing when so many heroines are wishy-washy with what they want.
As far as Todd went, I found him much more my speed. He is a man's man, but needs to come to terms with who he is and what he is willing to accept about his own sexuality. I have to admit that while I found the change in him believable, I did have trouble at the speed with which he accepted things. It seemed like his changes were too abrupt for my taste. Also, there were certain aspects of the threesome lifestyle that seemed a little "too good to be true". Hey, this is a romance, so I am not overly complaining. However, if you are looking for a more realistic approach you will need to give this book a little bit of open-mindedness when you read it.