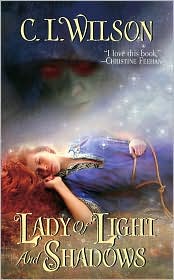 Title:
Lady of Light and Shadows
Author:
C. L. Wilson
Publication Date:
2007
Genre:
Fantasy
Rating:
B-
Sensuality:
Warm
Lady of the Light and Shadows
is the second book in the four book Taren Soul series. It picks up right were
The Lord of the Fading Lands
ended. Rain and Elly are betrothed. Before Rain can take Elly back to his Fay homelands, he promised her parents he would allow for a proper wedding in human tradition. This means Elly has to go through several bridal blessings before they can wed. The complication is that something or someone is threatening Elly. Elly's homeland is also on the verge of war only her people are unaware of this unseen threat. Rain is trying to convince them of it, but the people are suspicious of the Fey.
I hate to say it, but I really struggled with this book. I could barely get through the first half and I repeatedly would put it down because of boredom. It felt like a recap of what had happened in the first book and the pacing was extremely tedious. There was a lot of political plotting and mysterious unveilings that didn't quite make sense until later on in the book. I had my hopes up that things would move a lot faster than they did. I was also hoping that part of the book would take place in the Fading Lands, but that didn't happen. It wasn't until about the halfway point that things really began to speed up and get interesting. I am very glad that I did hang in there and kept going. My persistence paid off big time. The shit hits the fan in the second half and things get very intense.
One of the complaints I had about the first book was that Elly came across as almost too perfect. I felt she could have benefited from a more realistic and complicated portrait of a woman. I was pleasantly surprised that Elly did evolve in this second book and we see that she does have some depth to her. She is not all sugar and honey. She grows a backbone and takes charge. It was very nice to see her come into herself. Rain, on the other hand, took a nose dive for me. Oh boy, did he ever royally screw up with Elly. He does something that he will regret for the rest of his life. (At least that's how I see it). He broke her trust in him and he will have to earn it back. Finally, in the third book, Rain takes Elly back to his homelands. This is the part I have been anxiously awaiting.